VanWest College Canada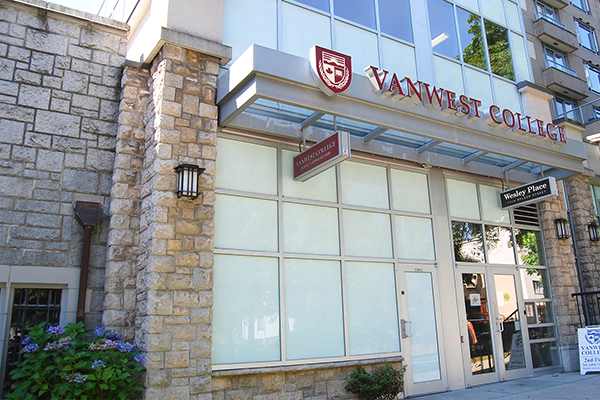 About VanWest College Canada
Vanwest College Canada is a private language school established in 2005 in Vancouver, British Columbia, Canada. They also have another campus in Kelowna. The college offers English language programs for international students, focusing on improving their English proficiency for academic, professional, or personal purposes. These programs include General English, Academic English, Business English, and Test Preparation courses for exams such as IELTS and TOEFL.
In addition to English programs VanWest College also offers college programs in the fields of business, marketing and hospitality. One of the advantages of studying at Vanwest College is the small class sizes. The college maintains a low student-to-teacher ratio, allowing for personalized attention and interactive learning experiences. This enables students to actively engage in classroom activities and receive individualized feedback and support from experienced instructors.
The college provides modern and well-equipped facilities to support students' learning experience. These include classrooms with multimedia resources, computer labs, student lounges, and study areas. The facilities are designed to create a comfortable and conducive environment for language learning and academic development. Vanwest College offers a range of social and cultural activities to enhance students' language skills and provide opportunities for cultural immersion.
These activities may include field trips, conversation clubs, guest speakers, and cultural events. Engaging in these activities allows students to practice their English skills in real-life situations and learn more about Canadian culture.
Faculties at VanWest College Canada
English Programs: 
General English Program: The General English Program focuses on developing overall English language proficiency. It covers essential language skills such as listening, speaking, reading, and writing. Students study various topics and engage in interactive activities to improve their communication skills and gain confidence in using English in everyday situations.
Academic English Program: The Academic English Program is designed for students who plan to pursue higher education in English-speaking countries or need to improve their academic English skills. This program helps students develop the necessary language skills for academic success, including academic writing, research skills, critical thinking, and presentation skills.
Business English Program: The Business English Program is tailored for individuals who wish to improve their English language skills specifically for professional and business contexts. Students learn business vocabulary, effective communication in the workplace, business writing, negotiation skills, and presentation techniques. This program is suitable for those seeking to enhance their career prospects in an international business environment.
Test Preparation Programs: Vanwest College offers specialized test preparation programs for internationally recognized English proficiency exams such as IELTS (International English Language Testing System) and TOEFL (Test of English as a Foreign Language). These programs focus on familiarizing students with the exam format, practicing test-taking strategies, and enhancing the specific language skills needed to achieve high scores.
Customized Programs: Vanwest College also provides customized English language programs for specific purposes or groups. These programs can be tailored to meet the specific language needs of professionals, educators, or individuals with unique requirements. Customized programs can be designed to focus on specific language skills, industries, or areas of interest.
College Programs: 
Business Programs: VanWest College offers a variety of post-secondary and post-baccalaureate business programs such as operations and supply chain management, business management, and cross-cultural business communication. These programs aim to equip students with the necessary practical skills, strategies, and specialized knowledge needed to excel as competent leaders and managers.

Commerce and Marketing: The Commerce and Marketing Co-op Diploma program emphasizes the core principles of business and equips graduates with practical skills essential for securing employment in the commerce and marketing industry. It incorporates contemporary business concepts and real-world illustrations to provide a comprehensive understanding of the global corporate commerce and marketing landscape.

Hospitality: The Hospitality Management Co-op Diploma program aims to equip students with advanced expertise and skills in various aspects of hotel and restaurant operations, international marketing, food preparation and service, financial analysis, accounting, front and back office operations, and effective collaboration within diverse cultural teams.
Admission Requirements at VanWest College
Academic Requirements: International students must meet the minimum academic requirements for admission. This typically includes the completion of secondary education that is equivalent to Canadian high school completion. Applicants must submit their official transcripts or academic records, including course grades and graduation certificates. If these documents are not in English, they must be translated and officially certified.
English Language Proficiency: International students whose first language is not English may demonstrate English language proficiency. Accepted language proficiency tests include the TOEFL, IELTS, Duolingo or other equivalent exams.

Students can also take the placement test at VanWest College.
Tuition, Fees, and Refund Policy
Tuition and Fees: 
Vocational College Program Tuition:

Certificate Programs Tuition: Ranges between $3,000 CAD – $9,000 CAD
Diploma Programs Tuition: Ranges between $9,000 CAD – $20,000 CAD

English Program Tuition: Ranges between $1,000 CAD – $1,600 CAD
Vocational College Program Application Fee: $230 CAD
English Program Application Fee: $350 CAD
Residential Fee: Ranges between $200 CAD – $550 CAD per week
Homestay Fee: Ranges between $250 CAD – $300 CAD per week
Refund Policy: 
If an international student provides the institution with a copy of a study permit refusal, they will be eligible for a 100% refund of tuition and associated fees (excluding the application fee) if the refund request is made before the completion of 30% of the scheduled instruction hours.
Deadlines
Applications for admission are accepted on a rolling admissions basis and are processed at any time throughout
the year. All programs have different starting dates.
Facilities at VanWest College 
Classrooms: Vanwest College has well-equipped classrooms where students attend their language classes. These classrooms provide a comfortable and conducive environment for learning, with modern teaching aids and resources.
Computer Labs: The college offers computer labs with internet access and relevant software for students to practice their language skills, conduct research, and complete assignments. These labs are equipped with up-to-date technology to support students' academic needs.
Library: Vanwest College has a library where students can access a range of resources, including books, reference materials, and online databases. The library provides a quiet space for students to study, conduct research, and enhance their language learning.
Student Lounge: The college has a student lounge area where students can relax, socialize, and interact with their peers. It serves as a common area for students to take breaks, engage in conversations, and build connections.
Wi-Fi Access: Vanwest College offers Wi-Fi access throughout its campus, allowing students to connect their devices and access online resources for their studies.
Student Support Services: The college provides student support services to assist students during their time at Vanwest College. This may include academic advising, assistance with study permits, accommodation guidance, and counseling services.
Homestay: Vanwest College offers a homestay program where students have the opportunity to live with a Canadian host family. Homestay provides students with a unique cultural immersion experience and the chance to practice their English skills in a real-life setting.
Our Services 
We offer pre-evaluation of your documents including transcripts and English language proficiency results before applying to your program of choice. Additionally, we offer assistance and guidance in constructing optimal resumes and personal statements if required for admission. lastly, we provide a checklist of all the required documents for admission and assist you with applying for residency as well.