SELC College Canada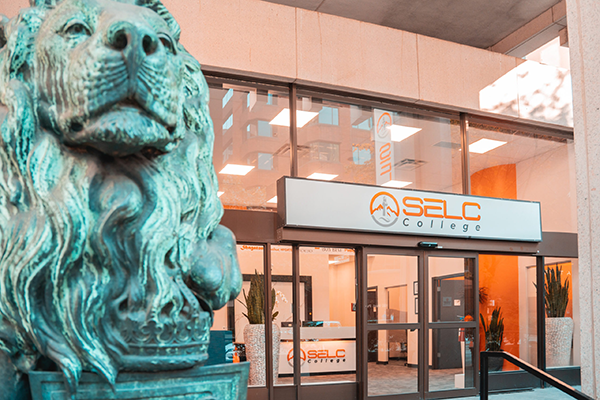 About SELC College 
SELC College was established in 1985 in Sydney, Australia. In 2012, they expanded their presence to Vancouver, Canada, by opening a campus. Over the years, SELC Vancouver has gained a strong reputation and has become a well-regarded college offering vocational career and language training in the city.
SELC College offers a variety of programs across multiple disciplines such as business, hospitality, education, healthcare, and digital media.
SELC College has cultivated a distinct culture and welcoming environment that sets it apart from larger, less personalized institutions.
Students who arrive at SELC for the first time often find themselves pleasantly surprised by the wide range of exceptional facilities and support services that SELC provides, showcasing their commitment to excellence.
Faculties at SELC College Canada
Faculty of Business: 
The Faculty of Business offers a range of diploma programs related to business studies such as International Business Communications and Supply Chain Management Specialist. The majority of programs also offer Co-op for a more hands-on learning experience. This faculty is dedicated to providing students with a comprehensive understanding of business principles, practices, and skills necessary for success in the corporate world.
Faculty of Community Services: 
This Faculty offers various diploma programs such as Community Support Worker, Addiction Worker, and Live-in Caregiver to train individuals for careers focused on supporting and assisting vulnerable populations.
Faculty of Hospitality: 
The Faculty of Hospitality focuses on providing education and training in various aspects of the hospitality industry. This faculty offers programs and courses that prepare students for careers in the dynamic and diverse field of hospitality, including hotels, restaurants, event management, tourism, and more.
Faculty of Digital Media: 
This Faculty offers digital marketing programs that provide students with the knowledge and skills necessary to navigate the rapidly evolving digital landscape and excel in the field of marketing.
Faculty of Healthcare: 
This Faculty offers various programs such as Post Graduate Nursing, Medical Office Assistant, and Hospital Support Specialist which focus on providing education and training for individuals interested in pursuing careers in the healthcare industry. This faculty offers a range of programs and courses that equip students with the knowledge and skills needed to work in various healthcare settings.
Faculty of Education: 
This Faculty offers the Education Assistant (EA) Program which prepares students to work as EAs in a school setting where they will be supporting the development of individual students, participating in school-based team meetings, and helping design and implement Individualized Education Plans. This program also has a 140 hour practicum.
ESL Programs: 
SELC Language College offers ESL programs. The structure of their programs, which include skills electives and extra workshops, is suitable for students on any type of visa, with a variety of goals for their language learning.
Admission Requirements
Academic Requirements: International students must meet the minimum academic requirements for admission. This typically includes the completion of secondary education that is equivalent to Canadian high school completion. Applicants must submit their official transcripts or academic records, including course grades and graduation certificates. If these documents are not in English, they must be translated and officially certified. 
English Language Proficiency: International students whose first language is not English must demonstrate English language proficiency. Accepted language proficiency tests include the TOEFL, IELTS, Duolingo, or other equivalent exams. Students must obtain a minimum score of 6.0 overall on the IELTS academic test, a score of 75 on the TOEFL iBT test, or a score of 95 on the Duolingo test. Please note that the minimum score requirements may vary by program.

For some programs, students may also take the SELC College-administered English Language Test

Supporting Documents: International students may be required to provide additional supporting documents, such as personal statements, letters of recommendation, and/or a resume/CV. These documents can help provide a comprehensive overview of the applicant's qualifications and experiences.
Some programs are also only offered for Canadian citizens, hence applicants must hold proof of Canadian citizenship or permanent residency for domestic students if interested in those programs.
Tuition, Fees, and Refund Policy
Tuition: 
International Student Tuition: Varies between $5000 CAD – $19000 CAD (see below for examples)

Business & Hospitality Foundations 100 Tuition: $5,670 CAD
Digital Marketing Specialist 500 Tuition: $18,990 CAD
Supply Chain Transportation & Logistics 200 Tuition: $9,900 CAD
Caregiver & Support Worker Tuition: $11,785 CAD
Fees: 
International Student Application Fee: $350 CAD
Domestic Student Application Fee: $250 CAD
Textbook Fees: Varies between $500 CAD – $2000 CAD
Refund Policy: 
Should an applicant not successfully obtain their study permit before the start of the term, SELC College will refund the tuition minus the application fee of $350 CAD. Applicants will be required to provide proof of their declined study permit to be eligible for a refund.
Deadlines
SELC College operates with open enrollment for its programs, meaning that applications for admission are accepted until the add/drop/change deadline of a specific semester, based on available space.
Facilities SELC College
SELC College in Vancouver aims to provide a supportive and conducive learning environment for its students. While specific facilities may vary, here are some common facilities you can typically find at SELC College:
Classrooms: SELC College is equipped with well-designed classrooms that are conducive to learning. These classrooms are often equipped with modern technology, such as audiovisual equipment, to facilitate interactive and engaging lessons.
Computer Labs: Many colleges, including SELC, provide computer labs with internet access and software necessary for students to enhance their digital skills and complete coursework. These labs offer students the opportunity to work on assignments, conduct research, and familiarize themselves with relevant software.
Library and Resource Center: SELC College may have a library and resource center where students can access a wide range of academic resources, including textbooks, reference materials, online databases, and study spaces. These facilities support students in their research and self-study endeavors.
Student Lounge: A student lounge provides a space for students to relax, socialize, and collaborate with their peers. It serves as a common area for students to unwind between classes, have discussions, or participate in extracurricular activities.
Cafeteria or Food Services: Some colleges have cafeterias or food services on campus, providing students with convenient access to meals and refreshments throughout the day.
Student Services: SELC College may have dedicated student services offices that offer support and assistance to students. These services may include academic advising, career counseling, student counseling, and assistance with visa or immigration-related matters.
Outdoor Spaces: Some colleges, including SELC, provide outdoor spaces or courtyards where students can enjoy fresh air, study, or socialize during breaks.
Homestay: SELC College in Vancouver offers homestay accommodation options for international students who are seeking a supportive and immersive living experience during their studies. Homestay refers to the arrangement where students live with a local host family in their home.
Our Services 
We offer pre-evaluation of your documents including transcripts and English language proficiency results before applying to your program of choice. Additionally, we offer assistance and guidance in constructing optimal resumes and personal statements if required for admission. lastly, we provide a checklist of all the required documents for admission and assist you with applying for residency as well.