Institute of Technology Development of Canada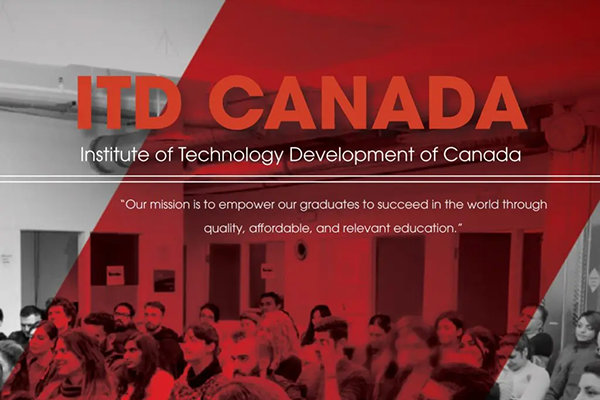 About the
Institute of Technology Development of Canada (
ITD)
Institute of Technology Development of Canada has two campuses in Vancouver and Vernon, British Columbia, and one campus in Vietnam. ITD Canada is known for its commitment to innovation and its comprehensive career training programs. These programs are designed by professionals who possess relevant credentials and expertise in their respective fields.
One of the key advantages of ITD Canada is its small class sizes, which allow for more personal interaction and individual attention while maintaining a high standard of quality. Moreover, the institution continuously updates its career training programs to align with the requirements of the job market. ITD Canada takes pride in the accreditation of its programs, ensuring that the education provided meets the highest standards.
They offer 14 modern and accelerated Diploma programs in areas such as business, art, information technology, and hospitality. Many of these programs can be completed within a year or less, making them ideal for students looking for a swift path to their desired careers.
For over two decades, ITD Canada has produced graduates who embark on careers filled with opportunities. The institution's programs are specifically designed to prepare students for their chosen professions through practical, hands-on learning experiences. These experiences are facilitated by practitioner-instructors who possess extensive industry knowledge and exceptional teaching abilities.
Faculties at
Institute of Technology Development of Canada
Art School:
This faculty offers a graphic design diploma program and an interior design diploma program. The programs concentrate on equipping students with the skills and knowledge necessary to pursue diverse career opportunities in the fields of interior design and graphic design.
Business School:
This faculty offers diplomas in business administration, accounting and finance, and sustainable business management. These diploma programs aim to prepare students for a range of business administration roles that demand the application of up-to-date industry policies, practices, procedures, and tools.
Hospitality School: 
This faculty offers a hospitality management diploma program that is designed to equip students with the necessary skills and knowledge to pursue various hospitality positions that involve the implementation of current industry policies, practices, procedures, and tools.
IT School:
This faculty offers a variety of diploma programs in IT such as system programming, open web development, software development and etc. The majority of these programs also have co-op which allows students to gain theoretical knowledge and practical skills in industry-standard programming languages, database design and application, fundamentals of object-oriented programming, HTML, JavaScript, and the development of practical software applications.
Language School: 
This faculty offers a variety of ESL programs that are specifically designed to offer learners fundamental language instruction that enables them to comfortably communicate in an English language setting.
Admission Requirements at ITD Canada
Academic Requirements: International students must meet the minimum academic requirements for admission. This typically includes the completion of secondary education that is equivalent to Canadian high school completion. Applicants must submit their official transcripts or academic records, including course grades and graduation certificates. If these documents are not in English, they must be translated and officially certified.
English Language Proficiency: All applicants, regardless of their nonimmigrant or immigrant status, are required to show that English is their primary language. This requirement can be fulfilled if the applicant has obtained a secondary school diploma from an educational system where English is the official language of instruction. However, applicants who are unable to meet the English Language Proficiency requirements will need to take the College's English Assessment Test. To be eligible for non-ESL college programs, applicants must pass the College's English Assessment Test at the Pre-intermediate level.
Supporting Documents: International students may be required to provide additional supporting documents, such as a personal statements, letters of recommendation, and/or a resume/CV. These documents can help provide a comprehensive overview of the applicant's qualifications and experiences.
Tuition, Fees, and Refund Policy
Tuition and Fees: 
International Tuition: Ranges between $18,000 CAD – $22,000 CAD (see exception below)

Sustainable Business Management program tuition: $10,850 CAD

Co-op Tuition (included in the above tuition rates): $1,850 CAD
Application Fee: $350 CAD (non-refundable)
Refund Policy: 
Should an applicant not successfully obtain their study permit before the start of the term, ITD Canada will refund 100% of tuition fees minus the application fee of $350 CAD. Applicants will be required to provide proof of their declined study permit to be eligible for a refund.
Deadlines at
Institute of Technology Development of Canada
International students are welcome to submit their applications at any time throughout the year, based on their convenience and individual circumstances.
Facilities at ITD Canada
Classrooms: ITD Canada would have dedicated classrooms where lectures, discussions, and group activities take place. These classrooms are equipped with necessary teaching aids such as projectors, whiteboards, and audiovisual equipment.
Computer Labs: Given the focus on technology and career training, ITD Canada may have computer labs equipped with modern computer systems and software relevant to the programs they offer. These labs allow students to practice and gain hands-on experience in their chosen fields.
Library and Resource Center: Educational institutions often have libraries that provide access to a wide range of books, reference materials, journals, and online resources to support students' learning and research needs.
Workshop and Studio Spaces: Depending on the programs offered, ITD Canada may have specialized workshop areas or studio spaces where students can engage in practical training and hands-on activities. For example, in programs like interior design or art, there might be dedicated studio spaces for students to work on their projects.
Student Lounges and Common Areas: To promote interaction and collaboration among students, colleges often provide designated student lounges, common areas, and gathering spaces where students can socialize, study, or relax between classes.
Support Services: ITD Canada offers various support services such as counseling, career guidance, academic advising, and student services offices to assist students with their academic and personal needs.
Our Services 
We offer pre-evaluation of your documents including transcripts and English language proficiency results before applying to your program of choice. Additionally, we offer assistance and guidance in constructing optimal resumes and personal statements if required for admission. lastly, we provide a checklist of all the required documents for admission and assist you with applying for residency as well.