Alexander College Canada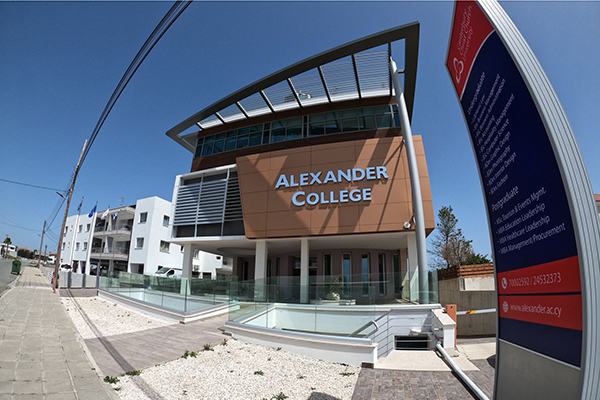 About Alexander College Canada
Alexander College Canada is a private post-secondary institution located in Vancouver and Burnaby, British Columbia, Canada. It was founded in 2006 and offers a range of undergraduate programs and academic courses.
The college offers small class sizes, which allows for more personalized attention and interaction with professors. The faculty members are experienced and dedicated professionals who are committed to delivering high-quality education.
The college offers a variety of programs, including Associate Degrees, University Transfer Programs, and English for Academic Purposes (EAP) courses. The Associate Degrees are two-year programs that provide a foundation in a specific field of study, while the University Transfer Programs allow students to complete the first and second years of a bachelor's degree before transferring to a university to complete the remaining years. The EAP courses are designed to help international students improve their English language proficiency for academic purposes.
Faculties at Alexander College 
Faculty of Arts and Humanities:
This faculty encompasses programs in the arts and humanities fields. It includes disciplines such as English, Psychology, Sociology, Criminology, History, and Philosophy. Students in this faculty can pursue Associate Degrees or University Transfer Programs in these areas, providing a solid foundation for further studies or career paths in the humanities.
Faculty of Science and Social Science:
This faculty comprises programs in the sciences and social sciences. It includes subjects such as Biology, Chemistry, Mathematics, Physics, Economics, Political Science, and Anthropology. Students in this faculty can pursue Associate Degrees or University Transfer Programs in these fields, gaining knowledge and skills in scientific and social science domains.
Admission Requirements of Alexander College
Academic Requirements: International students must meet the minimum academic requirements for admission. This typically includes the completion of secondary education that is equivalent to Canadian high school completion with a minimum cumulative GPA of 1.50 (on a 4.33 scale). Applicants must submit their official transcripts or academic records, including course grades and graduation certificates. If these documents are not in English, they must be translated and officially certified.
English Language Proficiency: International students whose first language is not English must demonstrate English language proficiency. Accepted language proficiency tests include the TOEFL, IELTS, or other equivalent exams. Students must obtain a minimum score of 5.0 overall on the IELTS academic test or a score of 64 on the TOEFL iBT test.

Students who decide to register at Alexander College without providing proof of English proficiency will need to take the English Placement Test (EPT). The outcome of this assessment will determine if the student has sufficient English language and writing abilities to directly enter university-level studies.

Supporting Documents: International students may be required to provide additional supporting documents, such as personal statements, letters of recommendation, and/or a resume/CV. These documents can help provide a comprehensive overview of the applicant's qualifications and experiences.
Tuition, Fees, and Refund Policy
Tuition:
International Tuition: $610.00 CAD per credit 
ENGLISH AS AN ADDITIONAL LANGUAGE (EAL) Tuition: $3000 CAD per level
University Preparation Program Tuition: $3,480.00 CAD
Tuition Deposit: The deposit for students is $9,150 CAD which is applied to tuition fees when students begin their program.
Fees: 
Application Fee: $200 CAD
Late Registration Fee: $50 CAD per course
Lab Fee (per 4-credit lab-science course): $30 CAD
Student Association and Activities Fee: $20 CAD per term
English or Math Placement Test Fee: $50 CAD
Refund Policy: 
International students who have received an Official Letter of Acceptance from Alexander College are generally not eligible for a refund unless they are unable to register due to the initial Study Permit refusal from Citizenship and Immigration Canada. In such cases, if a new international student is denied an initial study permit, the prepayment amount is fully refundable, except for the application fee of $200 and administrative fees of $300.
Deadlines 
Alexander College operates with open enrollment for its programs, meaning that applications for admission are accepted until the add/drop/change deadline of a specific semester, based on available space.
Fall Term (September Intake) 
Spring Term (May Intake)
Summer Term (July Intake) 
Facilities at Alexander College
Alexander College provides various facilities to support the learning and overall experience of its students. Here are some common facilities you can typically find at Alexander College:
Classrooms: The college has well-equipped classrooms that provide a suitable learning environment for students. These classrooms are designed to facilitate interactive and engaging teaching and learning experiences.
Computer Labs: Alexander College typically offers computer labs with access to computers, software, and internet connectivity. These labs allow students to work on assignments, conduct research, and enhance their computer skills.
Library: The college typically has a library or resource center that provides a collection of books, journals, and digital resources. Students can use these resources for academic research, studying, and accessing course materials.
Study Areas: Alexander College usually provides designated study areas or spaces where students can concentrate on their coursework and collaborate with peers. These areas may include quiet study rooms, group study rooms, and communal spaces.
Student Lounge: The college often has a student lounge area where students can relax, socialize, and interact with their peers. This space may have comfortable seating, tables, and recreational amenities.
Cafeteria or Food Services: Alexander College may have a cafeteria or food services on campus, offering a variety of food and beverage options for students to enjoy during their study breaks.
Student Services: The college typically offers student services such as academic advising, counseling, and support for career development. These services aim to assist students in achieving their academic and personal goals.
Scholarships at Alexander College
To acknowledge and honor exceptional academic achievements in specific subjects during each major term (Fall, Winter, Spring), Alexander College has introduced a series of Academic Scholarships. These scholarships are intended to recognize and reward the top-performing students within each discipline:
Five $1300 CAD scholarships are awarded each major term (not Summer), to students who exhibit academic excellence, a strong attendance record, and have at least a CPGA of 2.67 in a minimum of 9 credits.
Our Services 
We offer pre-evaluation of your documents including transcripts and English language proficiency results before applying to your program of choice. Additionally, we offer assistance and guidance in constructing optimal resumes and personal statements if required for admission. lastly, we provide a checklist of all the required documents for admission and assist you with applying for residency as well.