Acsenda School of Management Canada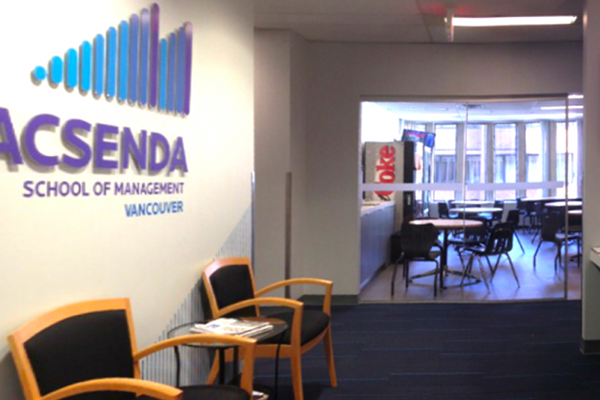 About Acsenda School of Management Canada
Acsenda School of Management Canada is a private post-secondary institution located in Vancouver, Canada. Acsenda School of Management was established in 2004 as Sprott-Shaw Degree College and later changed its name to Acsenda School of Management in 2009. The school offers Bachelor of Business Administration (BBA) and Bachelor of Hospitality Management (BHM) programs.
The curriculum emphasizes real-world applications and practical skills development. Courses cover various areas such as marketing, finance, accounting, human resources, operations management, and entrepreneurship. Acsenda School of Management is committed to providing a supportive and personalized learning environment for its students. The class sizes are relatively small, allowing for more individual attention and interaction with professors.
The faculty members are experienced professionals who bring real-world expertise to the classroom. Additionally, Acsenda School of Management has a diverse student body, attracting students from Canada and around the world. This multicultural environment provides students with opportunities to learn from different perspectives and develop intercultural skills.
Faculties at Acsenda School of Management Canada
Faculty of Management:
Bachelor of Business Administration (BBA): This program provides a comprehensive education in business administration, covering areas such as accounting, finance, marketing, human resources, operations, and strategic management.
Faculty of Hospitality Management:
Bachelor of Hospitality Management (BHM): This program focuses on developing the knowledge and skills required for a career in the hospitality industry. It covers topics such as hotel management, tourism, food and beverage management, event management, and hospitality marketing.
Admission Requirements of Acsenda School of Management Canada
Academic Requirements: International students must meet the minimum academic requirements for admission. This typically includes the completion of secondary education that is equivalent to Canadian high school completion. Applicants must submit their official transcripts or academic records, including course grades and graduation certificates. If these documents are not in English, they must be translated and officially certified.

If applicants do not meet the minimum mathematics requirement of achieving a grade of C+ or higher in Math 11 or its equivalent, they will need to complete the Basic Math course BMTH100.

English Language Proficiency: International students whose first language is not English must demonstrate English language proficiency. Accepted language proficiency tests include the TOEFL, IELTS, Duolingo, or other equivalent exams.

Applicants must obtain a minimum score of TOEFL (iBT- 60), IELTS (5.5), or Duolingo (95) to enter Acsenda's EAPP090 Bridging Course.

To be eligible for enrollment in ENGL103 and ENGL104 Bridging Courses, applicants must meet the entry requirement of scoring at least 6.0 on the IELTS (Academic) exam, with no band score lower than 5.5, 110 on the Duolingo test, or 75 on the TOEFL iBT test. Both ENGL103 and ENGL104 are 3-credit courses.

Supporting Documents: International students may be required to provide additional supporting documents, such as personal statements, letters of recommendation, and/or a resume/CV. These documents can help provide a comprehensive overview of the applicant's qualifications and experiences.
Tuition, Fees, and Refund Policy at Acsenda School of Management Canada
Tuition: 
International Tuition: $1,671.00 CAD Per Course (3 credits)
English for Academic Purposes (EAPP090) Tuition: $4,405.00 CAD
BHMT 440 Tuition for Internship—Hospitality Management (6 credits): $1,671.00 CAD
Tuition Deposit: The deposit for students is $6,000 CAD which is applied to tuition fees when students begin their program.
Fees: 
Application Fee: $155.00 CAD
Enrolment (Registration) Fee: $51 CAD per term
Administrative Fee: $275.00 CAD
FITT Fee (one-time, non-refundable): $446.25 CAD – Students in International Business Management will be subject to pay this fee
Graduation Fee: $230 CAD
Refund Policy: 
Should an applicant not successfully obtain their study permit prior to the start of the term, Acsenda School of Management will refund the deposit minus an administrative processing charge of $230 CAD. Applicants will be required to provide proof of their declined study permit to be eligible for a refund.
Deadlines at Acsenda School of Management Canada
Applications for admission are accepted on a rolling admissions basis and are processed at any time throughout
the year.
Term 1-2023 (January 09 – March 25, 2023) 
Term 2-2023 (April 03 – June 24, 2023)
Term 3-2023 (July 03 – September 23, 2023)
Term 4-2023 (October 02 – December 23, 2023)
Facilities at Acsenda School

Acsenda School of Management provides various facilities to support the learning and overall experience of its students. While specific details may have changed since my last update in September 2021, here are some common facilities you might find at Acsenda School of Management:
Campus Facilities: Acsenda School of Management has a campus facility that includes classrooms, lecture halls, computer labs, and study spaces. These facilities are designed to create a conducive learning environment for students.
Library: The school typically has a library or resource center that offers a range of books, journals, and other learning materials to support research and study needs. The library may also provide access to online databases and digital resources.
Student Lounge and Common Areas: Acsenda School of Management typically offers student lounge areas and common spaces where students can relax, socialize, and collaborate with their peers. These spaces often include comfortable seating, tables, and access to Wi-Fi.
Student Services: The school generally provides student services to support student well-being and success. This may include academic advising, career counseling, and student support services for personal and academic needs.
IT and Technology Resources: Acsenda School of Management usually offers IT and technology resources to students, including computer labs equipped with necessary software and hardware, access to online learning platforms, and technical support services.
Industry-Specific Facilities: If the school has programs related to the hospitality industry, there may be additional facilities such as training kitchens, mock hotel rooms, or simulated hospitality environments to provide hands-on learning experiences.
Our Services 
We offer pre-evaluation of your documents including transcripts and English language proficiency results before applying to your program of choice. Additionally, we offer assistance and guidance in constructing optimal resumes and personal statements if required for admission. lastly, we provide a checklist of all the required documents for admission and assist you with applying for residency as well.